All-On-4® – New Teeth in One Day for Bradenton and Sarasota
Improve Your Quality of Life with Stable New Teeth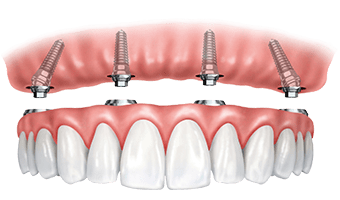 Dr. Rubino can place a series of dental implants that support a full-arch set of replacement teeth that are securely fixed on your arch and have close to the same chewing power as natural teeth. Your new teeth will look totally natural, and they won't slip, won't irritate your gums or lose their fit over time.

Using the All-on-4® procedure, Dr. Rubino will in most cases be able to place all your implants and have you wearing a new set of replacement teeth in the same day. The procedure is known as "All-on-4" because in many cases only four implants are needed to support an entire arch of new fixed-in teeth.
Recognized expert in All-on-4 treatment
Dr. Rubino is a Diamond Partner of Nobel Biocare™, the company that developed the All-on-4 technique. This is the highest level of partnership awarded by Nobel Biocare and is only received by a select number of dentists. This special status recognizes Dr. Rubino's expertise in this procedure as well as the many successful cases he completes every year.
How All-on-4 Works
In the past, many people with advanced bone loss in the jaw were considered ineligible for implant-supported new teeth, since implants require a certain amount of bone to be present to be stably placed. The breakthrough All-on-4 procedure involves placing four specially designed implants in strategic positions where bone is of high volume and density—even in patients who have experienced a great deal of bone loss.
The rear implants are placed at an angle to take advantage of the dense bone in the front of the jaw that is able to provide the strong support needed. This method works for almost every patient and eliminates the need for bone grafting in the vast majority of cases. This has made getting permanently fixed-in teeth faster, more efficient and more affordable.
After initial diagnosis and preparation appointments, you will be able to have any needed extractions performed, your implants placed and a new set of fixed-in teeth attached, all on the same day. Your new teeth will look beautiful and be fully fixed in and stable in your mouth. You will be able to brush them and care for them just like natural teeth.
Implant support customized to your needs
No two patients are exactly alike, and Dr. Rubino will determine the exact number of implants you need based on the results of a full oral exam and evaluation. Though the All-on-4 implant system often only requires four implants to support a full arch of replacement teeth, additional implants may sometimes be needed to achieve the necessary support structure.
Top-quality new teeth
Dr. Rubino partners with highly skilled local restorative dentists and prosthodontists (specialists in the fabrication of dental restorations) for the creation of top-quality temporary and permanent new teeth. He works closely with them to ensure your new teeth look completely natural and fit comfortably.
Health Advantages of Permanently Fixed-In Teeth
Implant-supported, fixed-in new teeth have major long-term health advantages.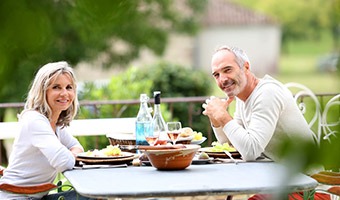 You can easily eat what you want and need – Since your new teeth will have close to the chewing power of natural teeth, you will be able to eat the foods you need and want for proper nutrition without having to resort to a blender.
Your teeth have no false upper palate – Your new teeth will not have the false palate on the upper arch that blocks your sense of taste, heat and cold. This not only makes eating a lot more pleasurable, it makes it safer.
You won't experience painful chewing or sores – Since your new teeth will be fixed firmly onto implants, they will not slip. Thus, you will find chewing comfortable and will not be subjected to the painful sores that come from the irritation caused by loose dentures.
Your jawbone will be preserved – Your jawbone needs the pressure from chewing and biting on your tooth roots to maintain its volume and density. Bone loss occurs in the jaw when teeth are missing, and the type of pressure exerted by traditional dentures does not only do nothing to prevent bone loss in the jaw, but actually accelerates the rate of loss. With implant-supported, fixed-in new teeth, your chewing pressure travels through the implants to your jawbone and helps prevent further bone loss by providing the proper type of stimulation.
Our All-on-4 Procedure
Dr. Rubino meticulously plans and executes every step of your procedure to ensure your implant placement is accurate, efficient and minimally invasive. He works in close coordination with a trusted restorative dentist or prosthodontist to ensure your restorations are comfortable, fully functional and aesthetic.
Detailed diagnostics
To determine the precise number of implants to be placed in the most optimum positions, we will take a full set of digital X-rays and a 3D scan from our state-of-the art cone beam CT scanner. The 3D images generated by the scan show areas where the bone is most dense and able to provide the strongest support for the implants. It also shows where the bone level may be deficient and require some bone grafting as part of the procedure.
Computer-guided planning
Using special implant planning software. Dr. Rubino will map out the exact position and angle of insertion for each implant. He will simultaneously plan any needed bone grafting.
He will use the same software for the fabrication of a surgical guide. A surgical guide is a template that fits over your dental arch and marks the exact angles and positions for your implants that Dr. Rubino has determined as part of your treatment plan. Dr. Rubino will use this guide during your procedure to make the placement of your implants very accurate and efficient.
Implants and functional new teeth on the same day
On the day of your procedure, Dr. Rubino will perform any necessary extractions and place all the necessary implants. Your restorative dentist will then fit you with a temporary, but functional, set of new teeth.
Dr. Rubino will give you explicit instructions on what foods you can eat as your implants heal. You will also receive any training needed to ensure your home oral care is maximally effective during the healing period.
Follow-up visits and monitoring
Dr. Rubino and your restorative dentist will both see you in follow-up appointments over the ensuing weeks. Dr. Rubino will monitor the healing of your implants and the dentist will check the look, fit and function of your new teeth.
The dentist will make any adjustments needed on the temporary teeth so they are perfectly fitting, aesthetic and functional. He will then use this adjusted model to make your final restorations, and will have them ready before your implants have fully healed.
Your beautiful, final new teeth
Once your implants have healed, Dr. Rubino will permanently attach your final set of replacement teeth. Your new teeth will look completely natural and aesthetic, and they will have near the same strength and functionality of natural teeth. You will easily be able to eat the foods you want and you will be able to smile and speak with renewed confidence!
$79 New Patient Special Offer:
Exam, X-rays & Consultation
If you are currently wearing dentures or need all of your teeth replaced, take advantage of our new patient special offer to come and see Dr. Rubino for a comprehensive oral exam and consultation. He will be able to tell you if you are a candidate for the All-on-4 or other implant-supported tooth replacement procedure, and he will take the time to thoroughly discuss your treatment options and answer all your questions. Your visit will include: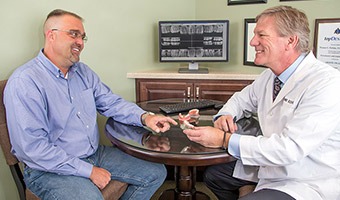 Digital X-rays
Panoramic X-rays (as needed)
Periodontal probing and charting
Comprehensive oral exam
Oral cancer screening
Consultation with the doctor
Discuss your treatment options (during free 2nd appointment)
Get all your questions answered
Usual value: $529
Important Notice:
The patient and any other person responsible for payment has a right to refuse to pay, cancel payment, or be reimbursed for any other service, examination, or treatment that is performed as a result of and within 72 hours of responding to the advertisement for the free, discounted fee, or reduced fee service, examination, or treatment.
Call to request an appointment: Sarasota/Lakewood Ranch 941-404-2218 • Bradenton 941-757-8676 • Sun City Center 813-630-4157, or click here to request an appointment online.